2 new releases to help you build multiple versions of your agents and in more languages
During Google I/O, we introduced a plethora of new features for Dialogflow, announced that we now have over half a million developers (woot!) using the product, and demoed how to build a bike shop agent in 20 minutes.
On the heels of these events, today we're also launching a new versioning/environments beta and 20 system entities for 9 languages.
New versions and environments feature BETA
One of the top feedback we hear from developers is the capability for versioning and environments – and now it's available! Our new versions and environments beta allows you to create multiple versions of your agent, so that you can build, test and deploy in separate, customizable environments (such as development, testing or production). With this feature, you can maintain one version of your agent in production and another in testing, perform quality assurance on specific features, and publish different versions to different integrations.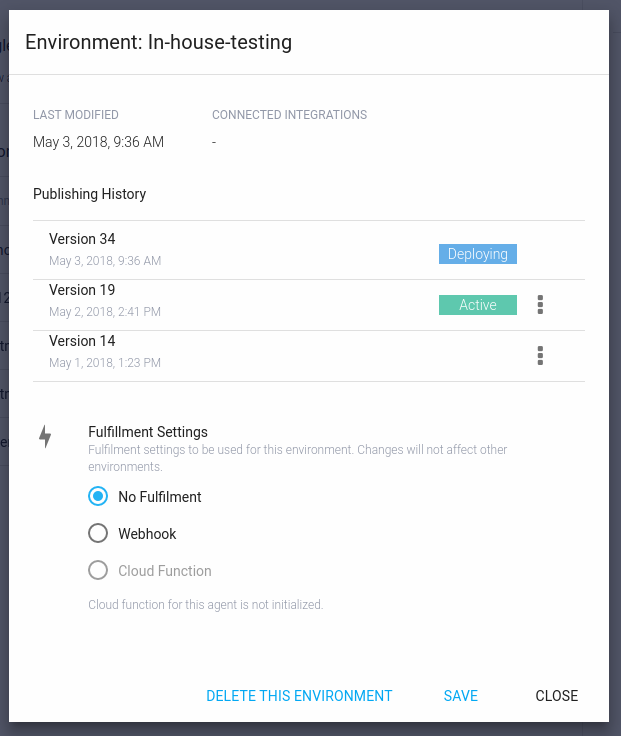 For Actions on Google developers, it's easy to use publish versions of your Dialogflow agent to the Action Console's new release environments. Learn how versioning works with the Google Assistant integration.
System entities now available for 9 languages
System entities are provided by Dialogflow and used to recognize common yet important things your users say to your agent. We currently have over 50 system entities in English that recognize concepts such as dates, time, geography, currency, and units.
As of today, 20 of these entities are now available for the following languages:
Hindi
Thai
Indonesian
Korean
Norwegian
Swedish
Dutch
Danish
Brazilian Portuguese
To learn more about entities, check out this short video tutorial from Dan, our team's developer advocate.
As always, let us know in the help forum if you have any questions or feedback about versioning, environments, or system entities. And join our Google+ community to see what some of our developers are building with Dialogflow.
Posted by Mary Chen, Product Marketing Manager