What is Volumetric Capture? How to Capture Volumetric Video

Search for: Search
Primary Menu

Search for: Search
What is Volumetric Capture? How to Capture Volumetric Video
by Ieva StelingyteMay 18, 2020July 29, 2020
Share0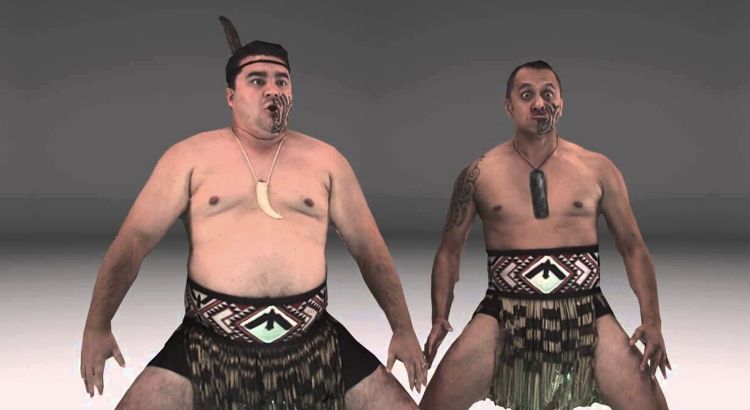 There are plenty of mixed reality entertainment, gaming, education and training apps. However, they all are missing the main thing that we are looking for – real people.
In VR and AR people are represented as avatars which makes the whole experience unfamiliar and awkward.
When we start thinking about business solutions and educational applications it all might sound a bit too far-fetched. Volumetric video capture is a new technology that can overcome this issue.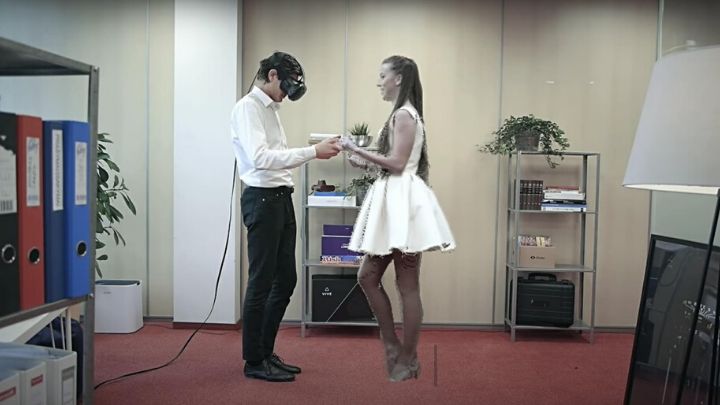 Courtesy of EF EVE™. Live volumetric streaming
Contents
What is Volumetric Capture?
Volumetric capture is a way to record real people in three dimensions for viewing in a virtual or mixed reality headset. It is done by a large rig of cameras placed around the person.
In other words, imagine that you are standing inside a rig of cameras where your body is fully scanned and recorded with all details. Also, it creates the most realistic digital copy of you in seconds. To record and edit the data powerful software is used.
How volumetric Capture works?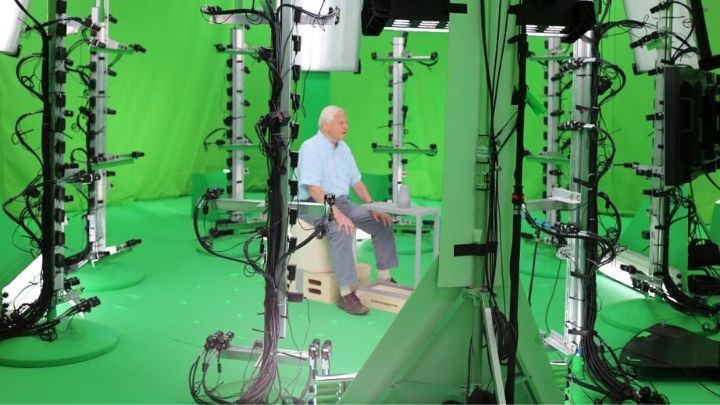 Courtesy of Factory 42 "David Attenborough volumetric video.
In order to capture volumetric video, you need cameras and software.
Microsoft and Intel have volumetric capture studios with over 100 bespoke cameras mounted on large rigs. The biggest studio to date is Intel Capture which covers 10,000 square feet.
The enormous amount of data it captures takes weeks to process but the end result is stunning. The greatest examples of volumetric video such as Buzz Aldrin "Cycling Pathways to Mars", David Attenborough "Hold the World" or Paramount Pictures "Grease" were made in these studios.
'Grease' at 40: Volumetric Capture at Intel Studios Celebrates Iconic Movie
However, all of it comes at a cost and you need to have pretty deep pockets to afford it. The rent of such a studio would take you back by around $100 000 for a couple of minutes of content.
The first thought which comes to mind is "This is not for me". What if I would tell you that it is actually possible to build such a studio yourself.
Also Read: What is CGI Technology?
How to Capture Volumetric Video yourself?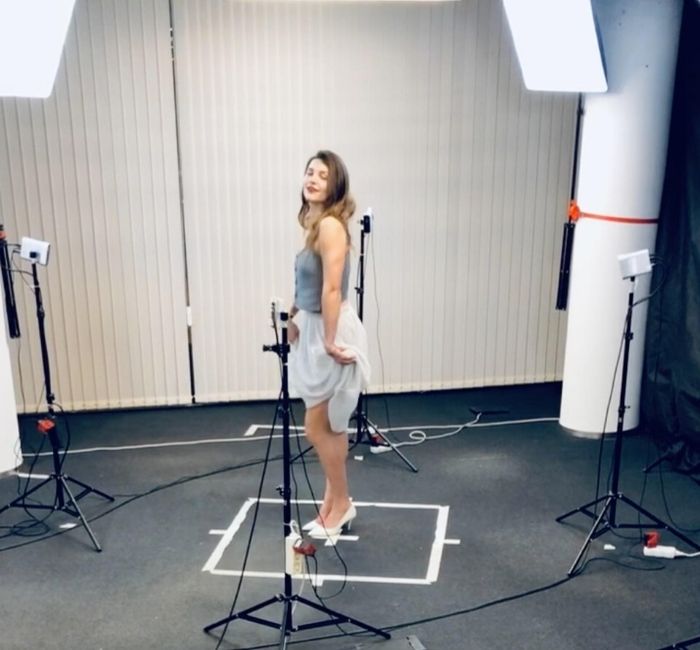 Courtesy of EF EVE ™ EF EVE ™ volumetric capture with 4 Azure Kinect.
You're probably still not convinced about the possibility of capturing volumetric video yourself. Luckily there are a couple of companies which are focused on consumer-friendly and affordable setup.
Most of them support only one camera so what you get is just half of what you need. EF EVE ™ volumetric capture recently released a solution which supports up to 4 sensors and automatically calibrates them.
Microsoft Kinect Azure, Kinect Xbox One and Intel Real sense are the off-the-shells cameras you can use. If you would try to put any of these sensors into a rig without the software the end result would be hardly recognisable.
The sensors simply do not match each other and produce separate outputs. That's where automatic calibration of sensors comes very handy.
Where are these Volumetric videos used?

Intel volumetric video "Western"
Some of us might still remember how 20 years ago you would go to a photo studio to take family pictures. Now it is hard to imagine that we could live without photos and videos.
If we compare volumetric capture technology to this it is still in the early stages. However, the content produced is so immersive and realistic that it would be silly to think that it won't be used in the same industries where the video is now. It is an evolution of video.
There are some great examples of Volumetric video and immersive media. Intel has released a western, Sky TV created a VR series called The Viking Planet: The Ambush.
It shows the power of volumetric video and how it recreates scenes in full 3D. In VR you can choose your position in a film. It is like choosing from whose perspective you will watch the move today. Every single time it is a new experience.
Therefore, it is great that we can already see companies making steps towards more accessible setups. Who knows maybe in a couple of years' times we all will be able to put virtual or augmented reality glasses and stand next to our own digital twin?
Share0
Ieva Stelingyte is one of the volumetric capture pioneers and her everyday life involves VR, AR and volumetric video. For the past 7 years, she's been lucky to make her passion for immersive experiences her daily job. She is a co-founder of EF EVE.
Related posts
Paul MatthewsNovember 18, 2019December 31, 2019
Team TMTJanuary 26, 2020March 11, 2020
Team TMTApril 18, 2020April 18, 2020
Niti SharmaApril 29, 2020May 5, 2020
Team TMTMarch 29, 2020April 22, 2020
Team TMTApril 21, 2020April 21, 2020
3 comments

Drebes July 24, 2020 at 5:46 am
Wonderful work! This is the type of info that are meant to be shared around the web. Disgrace on the seek engines for not positioning this post upper! Come on over and talk over with my site. Thanks, =)|

Mary Foreman July 26, 2020 at 12:37 pm
Terrific article! That is the kind of information that are supposed to be shared around the web. Thanks =)

Sandra Vander July 27, 2020 at 9:24 am
This post truly made my day. You can't consider simply how a lot of time I had spent for this info! Thanks!
Save my name, email, and website in this browser for the next time I comment.
This site uses Akismet to reduce spam. Learn how your comment data is processed.
Recent Posts
[
20
Aug
August 20, 2020](https://www.techmediatoday.com/ogymogy-android-monitoring-app/)
Team TMTAugust 20, 2020August 20, 2020
[
20
Aug
August 20, 2020](https://www.techmediatoday.com/cocospy-spying-app/)
Team TMTAugust 20, 2020August 20, 2020
[
19
Aug
August 19, 2020](https://www.techmediatoday.com/best-smart-home-devices/)
Team TMTAugust 19, 2020August 19, 2020
[
18
Aug
August 18, 2020](https://www.techmediatoday.com/how-machine-learning-is-reshaping-the-future-of-email-marketing/)
Kevin GeorgeAugust 18, 2020August 18, 2020
[
18
Aug
August 18, 2020](https://www.techmediatoday.com/parental-control-apps/)
Team TMTAugust 18, 2020August 18, 2020
TechMediaToday - Highlighting Who and What Matters Most in Technology industry.
Subscribe Our Newsletter to Stay Updated
Leave this field empty if you're human:
All Right Reserved by TechMediaToday @2019
This website uses cookies to improve your experience. We'll assume you're ok with this, but you can opt-out if you wish. Accept Read More